Housing, growth and spatial planning: a curious person's reading (and looking) list
There's a lot of opinions flying around right now, and the debates are only ramping up in Wellington. Spatial Plan submissions are only the first step – and some curated reading will stand you in good stead
---
Right now, as the NPS-UD says "thou shalt accommodate more people in thy centres", Wellington (and all towns) need to be learning and talking more, not less. We must absorb good information and adjust our positions, rather than letting our ignorance and fear of the unknown stop us making better cities for all.
To help a little, we're curating the best stuff we come across and also firing up Talk Wellington's cutting-edge, high tech Bullshit-O-Meter 3000 – so you can spot what's worth reading, what's worth sharing, and what's best going straight to compost.
The Bullshit-O-Meter is running night and day so this save this post for a rolling update! We want to populate all these headings with good stuff for your reading pleasure. Occasionally we'll also call out something egregious (but less often cos bullsh*t mustn't be spread).
Please also send us tipoffs – good pieces or sites you think others should read. Flick us a link and your hot take on why it's worth a read, to the Talk Wellington email
---
CREATE MORE HOMES, FASTER
Convert other buildings to be homes
Te Kainga is an example of office buildings converted to affordable apartments (press release here and Stuff coverage here and here)
But don't just let it be a free-for-all – decent standards are still needed otherwise conversions will be just as crappy as many current private rentals (the British Architects association was very opposed to removing all the hoops).
Note: it's all about money. Someone's gotta pay the often-significant capital costs of converting a non-residential property to decent residential, or upscaling the intensity of landuse on a site. At the moment in Wellington it's all still reliant on developers, or the current landowners – someone needs deep enough pockets to pay and the will to spend their money thus. No-one can compel them to do it if they don't want to. (This is the fundamental flaw in the "just make better use of existing under-utilised housing" argument that Dave Armstrong quotes trustingly here.)
See below – Mature how NZ invests in property
Build new
Prefab and modular
Most of the early hope for reducing build costs is in this space.
In greenfields
Papakāinga housing is a new-old way to develop that connects people properly with land, and with each other (guide from Te Matapihi here)
Accessibly – if building from scratch, there's no excuse not to consider universal accessibility, and almost no excuse to fail to provide for it. We have a massive shortfall in accessible housing given 25% of NZers experience a physical disability of some kind.
In brownfields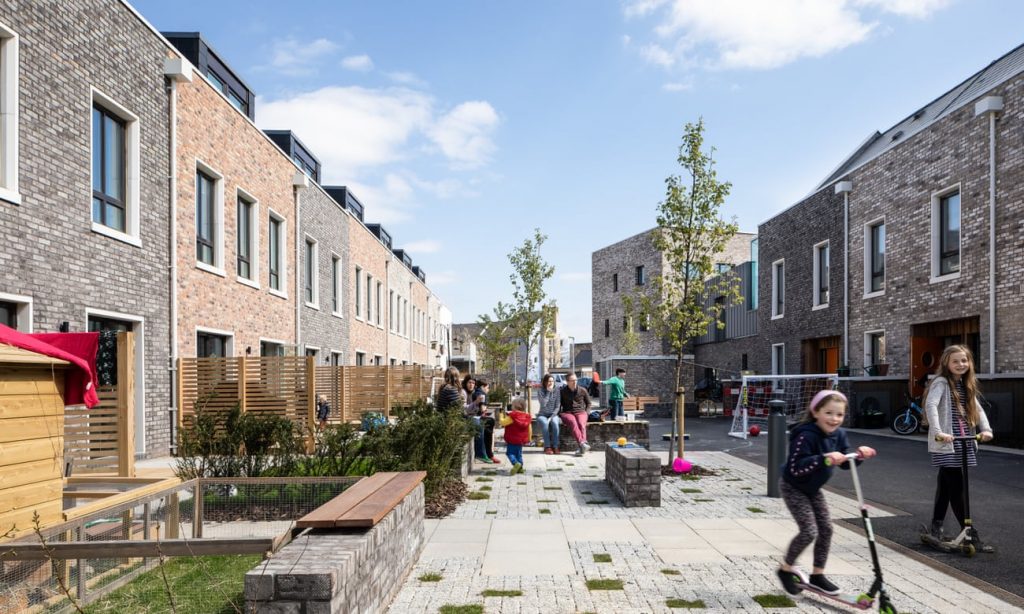 Comprehensive development is the best and most efficient way to convert former non-residential or low-density residential urban land to higher-density residential and mixed use. It's really hard and costly in NZ cos towns are made up of thousands of tiny, separately-freehold-owned plots.
Marmalade Lane, above, is an example of a really good comprehensive development (happens also to be cohousing, though these are a minority because of the social processes involved).
Portland has just passed a promising-sounding reform to encourage intensification by private landowners on low-density (suburban) properties
MAX UP THE DENSITY DONE WELL
We've had some nasty-as intensifications – nasty in terms of the living environment they offer people, and a few with objectively bad design, notwithstanding that this has a large aesthetic (taste) element too.
Density done well is what it says on the tin.
This can be done through smart planning and enabling. The UK's Housing Commission recommended several sensible things.
Get sensible about "context" and "character"
Do better community engagement
Seattle's methods get a lot of exposure, outlined here in the Guardian with lots of hope for using them locally for a less fraught public conversation.
Is consensus a prerequisite for improving a city's housing situation (as the Seattle article's headline suggests)? Citylab say it's foolish to aim for consensus in intensification discussions, let alone making it a prerequisite.
BUILD BETTER QUALITY STOCK
Warmer, drier, more universally accessible
A growing proportion of the UK's social housing is Passive, as the UK catches up with build quality in Europe
What NZ property managers think of the cold damp homes they look after
How can we tell?
How much better?
A big question. Better homes are generally more expensive to build (until you get decent economies of scale).
ACTIVELY DO AFFORDABLE & PUBLIC HOUSING
Do inclusionary zoning or some similar proactive affordability thing
Some kind of bake-in is required. Inclusionary zoning is one of the better-known tools, though not used much here outside Auckland.
"Typically, inclusionary zoning requires that a set percentage of new homes be sold at an 'affordable' price, with that price determined by reference to median household incomes in the relevant city or region." (Read more about this from David Mead on Community Housing Aotearoa)
Is there a new greenfield subdisivion coming in your area like Lincolnshire Farms or Plimmerton Farm? It should absolutely have some kind of inclusionary zoning type requirement.
But do your policy-making carefully; done crudely inclusionary zoning can result in market-rate units having to subsidise the affordable ones therefore bumping the former's prices up, resulting in no downward pressure on prices overall. A good paper here from the Property Council .
Get community housing trusts
Queenstown is leading the way in Aotearoa with a well-performing Community Housing Trust https://www.qlcht.org.nz/ , supported by all the things including inclusionary zoming.
MATURE HOW NZ INVESTS IN PROPERTY
Fix the privileging of property as an investment for regular folks
The ordinary NZ investment market (i.e. what people do with some savings when they want to make more of them) is overwhelmed by property. Besides the pathological effects on our housing market), it impoverishes the rest of the economy. Kiwis put our savings into houses rather than businesses – anything like they do elsewhere – so our private sector can't get any of that capital.
as Dave Armstrong put it: "In the time it took me to write this column, I earned about $120 in capital gain on my house. It's a perfect metaphor for this country. If you want to do really well, don't produce anything useful, just buy property, sit on your arse, and let market forces do the rest."
We just didn't think it was the best use of our hard-earned money to … deprive us of the opportunity to invest in businesses that will hopefully give us good financial returns and create jobs and prosperity for other New Zealanders.

Sadly, now that our money is tied up in one huge asset, it gives us shelter and security, but it no longer has the opportunity to be directly invested in New Zealand businesses to get them started, or to help them grow.

Shamubeel Eaqub, in Stuff (link. below)
So yes, wealth tax – the Tax Working Group's recommendations haven't gone away, no matter how much people dance around them.
Make it easier for large-scale institutional investors to invest in good housing
Elsewhere, big stable financial institutions (retirement funds, trusts etc) are investing in housing through a range of different vehicles including new ones (EU Housing Partnership summary here) . This provides a vital flow of capital, which we badly need given how there's basically only councils / central government and private developers at this stage.
(But beware – the vehicles need careful design; there's concern over who's an investor in Real Estate Investment Trusts)
Some promising things:
MATURE OUR INSURANCE AND RISK ARENA
MATURE OUR RENTAL CULTURE
SORT OUT INFRASTRUCTURE SO TRANSPORT AND PIPES WORK BETTER, HARDER
Comprehensive development approaches like this one in Auckland need to be applied to brownfield places too, not just greenfield
NZ's broken funding system for local infrastructure (ever-increasing unfunded mandates on local government) needs a dramatic fix, pronto. We can't force councils with the only option of pumping developers for the cost shortfall.